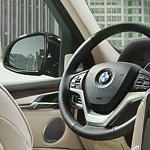 The 2020 BMW X5 is more than a vehicle. This sport-activity vehicle can be seen as a way of life thanks to all of its modern amenities. The new X5 not only has stunning good-looks, this SAV is loaded with a ton cutting-edge technologies. There are various trims to choose from as well as different exterior colors.
The 2020 BMW X5 has an impressive exterior façade. Of course, BMW has retained the use of its kidney shaped grille, and the grille is larger in size than previous models. Air breathers can also be seen at the front of the vehicle as well as dynamic LEDs. Bold contours can be seen flowing throughout the body, and the rear-end is quite muscular. The overall aerodynamics of the BMW X5 is flawless. Consumers can expect 22-inch wheel sizes.
Test drive the BMW X5 SAV by visiting our dealership today, so don't be late.