BMW Battery Service

Benefits of a Battery Service
Our certified technicians at Century BMW are focused on helping each of our valued customers throughout the Greenville area with exceptional automotive services. During your years as a proud BMW owner, you can trust us to complete quality work on all maintenance and repair projects that your car or SUV need. Battery service is one of the many services that you can schedule through our service department. Through a maintenance appointment, we can ensure that your battery has sufficient power and that all connections are solid. We can also check the alternator and ignition. Any signs of issues that are developing can be tended to quickly so that you can avoid the stressful experience of a breakdown. Remember that we can also assist you with repair and replacement services as needed to maximize uptime and overall performance.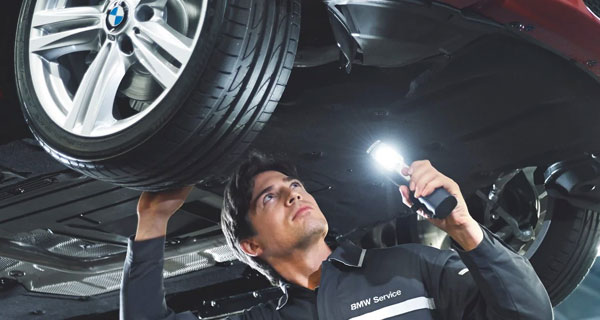 CENTURY BMW
2934 Laurens Rd, Greenville, SC 29607
Serving
Greenville

,

Greer

&

Simpsonville

The service department at Century BMW is only one of several choices available to you when you are looking for a trusted and reputable service center to bring your BMW to for all of its repair and maintenance work. One of the many features that sets us apart from your other choices is the knowledge and experience of our staff. In fact, all of our service technicians have gone through the certification process and have the know-how to provide you with exceptional work for any type of repair or replacement work that is needed. You can even bring your other makes and models to our team for high-caliber automotive services. Rest assured that we can complete exceptional work that exceeds your expectations, and we can do so efficiently. Our team understands that you are focused on getting back on the road as soon as possible. Calling ahead to make an appointment with us will ensure that your vehicle receives prompt attention.
Greenville Battery Service
At Century BMW's service center, we understand that the quality of parts used with our services is just as important as the quality of work that our certified technicians can complete for you. Because of this, you can feel confident that only superior parts and equipment will be installed in your vehicle when a replacement is needed. While some Greenville area service centers regularly use aftermarket parts, we go a step above and beyond to use OEM parts. OEM parts are superior to aftermarket parts because these are parts from the manufacturer of the original equipment that the automaker installed in your vehicle during production. You can generally count on them to provide you with similar performance as the parts that they are replacing. BMW owners in the Greenville area expect great things from an auto service provider. When you make the wise decision to bring your car or SUV to Century BMW, rest assured that we will do our best to meet and even exceed your expectations. Through the efforts of our certified technicians to use OEM parts and with our convenient appointment scheduling available during our extended business hours, you will enjoy wonderful things each time you bring your BMW to us. To make your appointment with our team at Century BMW, reach out to us today.