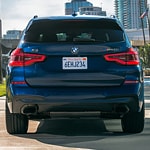 Luxury is something enjoyed by many people. The BMW X3 is a popular luxury SUV on the roads. The vehicle handles well and is a versatile choice. The cabin is made of the fine materials you will come to expect from a luxury vehicle. It has a roomy cabin and plenty of cabin space for you to store your possessions.
It's our job at Century BMW to help you get what you want out of your SUV. You may be a person who wants to upgrade to all-wheel-drive from the standard rear-wheel drivetrain. That's not a problem in the X3.
You might be a person who wants a panoramic moonroof to look at the night's sky. That option is available in the X3. If you like to connect your smartphone to the infotainment system, Apple CarPlay and Android Auto come standard in the BMW X3. There's plenty more. Visit us at our showroom in Greenville for a test drive.