BMW Brake Service

Benefits of a Brake Service
The braking system on your BMW is not a feature to overlook when you are caring for your vehicle. It is easy for busy Greenville residents to put off scheduling maintenance service for another day. Some local residents may even delay maintenance service for so long that repair issues develop. However, keep in mind that your vehicle's brake fluid, rotors brake pads and linings are essential to the general operation of your vehicle and to your safety on the road. For example, worn out brake pads or leaking brake fluid can make it increasingly difficult to safely slow and stop your vehicle. Preventive service can be scheduled with our team at Century BMW to identify signs of issues with the system and to improve any areas that are currently showing signs of wear. Repair service can be completed when parts have worn out or have stopped functioning properly. You understandably want to keep your BMW maintained in prime condition while also promoting your safety on the road, and you can rest assured that we will work hard to properly service your brake system and all other systems as needed.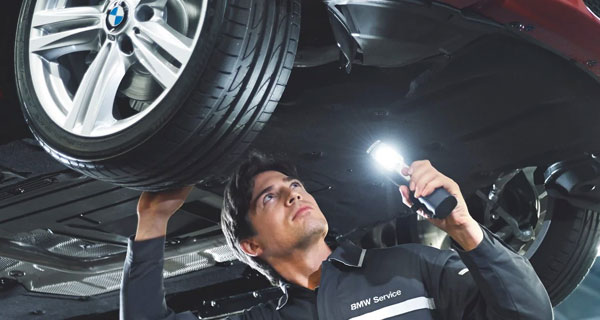 CENTURY BMW
2934 Laurens Rd, Greenville, SC 29607
Serving
Greenville

,

Greer

&

Simpsonville

Some Greenville residents have assumed that taking their vehicle to a specialist auto service center that only provides brake services is a smart option. After all, it is easy to assume that specializing in one type of service makes the company a leading expert. In reality, the results of brake service are directly linked to two factors. These are the skills and training of the service team and the quality of the parts used in the service. With a closer look at how our service department at Century BMW functions, you will see that we offer a truly stellar automotive service experience for brake systems and for all other types of systems that your vehicle needs. One of the reasons why you can count on us to deliver great results for you on a reliable basis is because of our devotion to hiring certified automotive technicians. There is never a concern that a poorly trained technician will work on your brake system when you bring your BMW into our Greenville service center. Remember that the extensive knowledge of our technicians extends beyond brake services to all components in your vehicle, and it also extends to any other makes and models that you own.
Greenville Brake Service
In addition to hiring certified auto specialists, we also take the initiative to use exceptional parts in all of our services. From brake pads and rotors for brake services to any other parts necessary for other services that we can provide, you can expect us to install OEM parts in your vehicle. Some service centers replace the original parts with aftermarket parts that may have unproven or unreliable performance capabilities. Our service department uses parts that have been manufactured specifically from companies that made the original parts that are being replaced. The team at Century BMW's service center is ready to begin working on your brake system. For faster service when you arrive, call ahead to make an appointment.